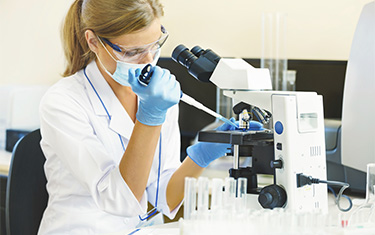 We all know the symptoms well…coughing, sneezing, fever, body aches, stuffy nose making it nearly impossible to get much-needed rest.  When a respiratory infection hits, it's guaranteed misery for at least a few days. But, for some individuals, a respiratory infection can be much more serious.  For more vulnerable patients, like children and the elderly, a respiratory illness can lead to hospitalization, more severe symptoms and even death.  Pharmacogenetic Testing can complete accurate and reliable molecular testing for PCR upper respiratory illness to help physicians provide the best possible care to their patients.
Testing Lab for Respiratory Viral Infections
Molecular PCR upper respiratory testing is a relatively new battery of laboratory diagnosis that can help identify the exact respiratory illness that a patient is battling so that treatment can be swift and accurate and more effective.
This laboratory diagnostic testing is ideal for patients who might be highly susceptible to illness, when it is critical that a treatment plan is put in place as quickly as possible.  Groups of patients that may benefit most from molecular testing for PCR upper respiratory illness include:
Immunocompromised patients (including transplant and cancer patients)
Children or elderly who have already been admitted to the hospital
Elderly patients with pre-existing health conditions
Texas Laboratory Diagnosis at Pharmacogenetic Testing
Pharmacogenetic Testing partners with physicians and healthcare facilities in Texas and all over the country to provide fast, reliable and accurate laboratory diagnostic testing so that patients can get the best possible care.  When used in tandem with clinical exam and diagnosis, a physician can feel confident that they are providing accurate diagnosis and the best treatment for that diagnosis.
The entire team at Pharmacogenetic Testing works with the following goal in mind — we use state of the art testing services and equipment to provide comprehensive and reliable results with extremely fast turnaround time and easily accessed materials.  Most often, our results are available in real time with online reporting so that you can see all the details as quickly as possible.
Molecular PCR upper respiratory testing helps provide doctors with more information than they would have from an exam alone. This information is provided to doctors quickly and takes some of the guesswork out of the diagnosis process, especially for complicated patients.  If you would like more information about the services provided by Pharmacogenetic Testing, any member of our laboratory team can help you.  Call 1-(833) 749-5227 to learn more about our services.