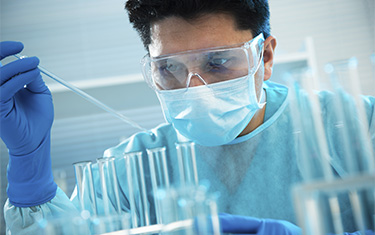 If your medical practice, hospital or specialty clinic is looking to partner with a lab to provide accurate pharmacogenomics testing (PGX) or drug gene testing, toxicology testing, and polypharmacy testing, Texas Genetic Labs, LLC can help. Our professional lab technicians can test blood, urine, or saliva samples to provide you with the information that you need to assist your patients and provide them with the best healthcare possible. We provide modern, cost-efficient, and competitively price lab tests for healthcare providers in Texas and all over the US, and provide results extremely quickly, so that you can spend your time helping your patients, not waiting for results.
Lab Testing Services Offered By Texas Genetic Labs, LLC
Pharmacogenomics Testing: Pharmacogenomics testing, also often referred to as drug gene testing can give physicians and other health care providers information about a patient's genetic make-up so that medical treatments can be tailored to them. This information helps physicians give patient appropriate dosages and reduces the risk of adverse reactions to drugs.
Toxicology Testing: Our Texas lab can also provide you with toxicology testing so that physicians can know for sure what is present in their patient's body and how that might interact with other necessary prescription drugs. Toxicology testing can also be useful in addiction treatment centers, pre-employment screenings, athletic programs, forensic exams, and in pain management clinics.
Polypharmacy Testing: Polypharmacy and the misuse of multiple medications is on the rise and has become the fourth leading cause of death in our country. Right now, almost one-third of Americans between the ages of 57 and 85 taking at least 5 prescription drugs and 68% of all Americans are also taking OTCs or herbal supplements. The state of the art diagnostic facilities of Texas Genetic Lab, LLC can complete the Bennett Polypharmacy Profile (BPP): to successfully identify and determine drug interactions, with the goal of reducing the number of Adverse Drug Events (ADE).
Get Accurate Results Fast
Texas Genetic Labs, LLC also understands that time is of the essence when it comes to getting accurate results of these types of drug tests back in your hands, quickly, so that you can better serve your patients. Our lab technicians will complete the analysis and get a full report back to you with detailed results in a matter of 48 hours. This fast turnaround time is one of the things that sets our lab apart from others around the country. If you would like more information about how Texas Genetic Labs, LLC can work with your medical practice, call 1-(833) 749-5227.